Overview Description: City of Hue is perhaps best known for its historic monuments, which have earned it a place in the UNESCO's World Heritage Sites. The seat of the Nguyen emperors was in the Thành Nội – Citadel on the north side of the river. Along the Hương river, there lies tombs of several emperors such as Minh Mang, Khai Dinh, Tu Duc, and others, as well as the notable pagoda of Thien Mu which is iconic landmark of Hue city.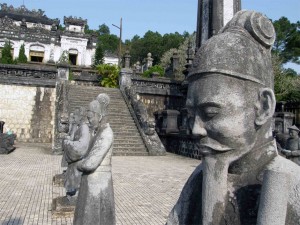 Detailed Itinerary:
Start this full day tour by visiting Tomb of Emperor Khai Dinh, which features some modern European architectural design into traditional oriental style. Then to Tomb of Emperor Tu Duc – which was built between 1864 to 1867 by 3000 soldiers and workers. It includes 50 monuments surrounded by a 1500 meters long wall and cover an area of 12 ha. Depart to visit Tu Hieu pagoda, the most beautiful pagoda crowned on top of a hill in Hue countryside. The next destination before getting back to city centre is a handicraft village renowned for its conical hat making tradition. Hue conical hat is specially called "poem hat" as it is very delicate and refined in decorations, a perfect local souvenir of Hue. Hearing stories of local people to learn more about their daily life. Return the city centre for lunch in a local restaurant.
In the afternoon, take a boat trip along the poetic Huong River, watching the river life and peaceful scenery along the banks. Stop en route to visit the iconic Thien Mu pagoda which is the symbol of Hue, and Minh Mang Tomb – one of Hue's finest royal tombs, an architectural complex of 40 constructions (palaces, temples, pavillons, etc.). Return the harbor in city center at around 17h00.
Duration: 08 hours